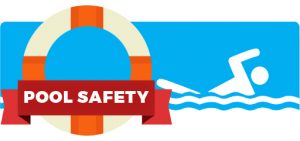 Rules and regulations are important with any organization. Safety is the paramount concern of the Board of Directors. Be careful and mindful of others. Cooperation with the rules will enhance the enjoyment of the pool and its facilities for Members and their guests! Note: The Lifeguard is only available at specific times. If there are no lifeguards on duty it is YOUR responsibility to keep your family and friends safe by watching them at all times.
LIFEGUARD AND MANAGER UPDATE!
We are happy to announce that Kiley, our new manager, and Azindi, our new lifeguard, are now on duty! Please contact the pool office or check emails for scheduled lifeguard hours!
Reminder: Pool Rules Regarding Children at the Club
With a lot of relatively new members we've gotten questions about the rules regarding unaccompanied children at the club. The following rules apply with regards to children at the club.
*** WHEN A LIFEGUARD IS ON DUTY, Children 12 and under must be accompanied by a member aged 16 or older for admittance to grounds. The over-16-year old must be present and supervise their pool usage. Children 13 and over may come to the pool without an adult accompanying them. [Note: This rule was updated this year by the Board and it is now the same as the city pool rule.]
*** WHEN NO LIFEGUARD IS ON DUTY no persons under the age of 18 are allowed without an adult member.  Violation of this rule will result in immediate disciplinary action including possible revocation of membership.
---
MEMBERSHIP APPROVED RULES AND BYLAWS

Every member is responsible for knowing and understanding the pool rules and bylaws. These rules and bylaws have been approved by the membership. Please review with your family and friends in attendance.
---
MEMBERSHIP FORMS
Single Guest Waiver –– Use as needed for guests. Envelopes available and include $4 per guest fee. Drop in office door slot.

---
PARTY POLICY AND GUEST WAIVERS/FEES
Parties: A party application must be submitted and approved at least 2 weeks in advance of any proposed gathering of 7 or more non-member guests. Party fees include all guest fees and a reserved party area for the day of the party. No more than one party will be approved per day and the approval will be for a specified time slot. The time slots available for parties will be either 12 to 3 pm, or 4 to 7 pm.
Guests: Guest fees are $4 per guest consistent with the fee schedule adopted in 2019 by the membership, and all guests must sign a waiver. Waiver forms and envelopes are located in the lounge area near the calendar. Please stick them through the slot on the office door if no one is at the office to take the waiver/fee.
---
2022 Annual Membership Dues



$425. FAMILY – Annual Membership Dues – Must be living in same household and anyone over the age of 25 must pay an additional $50
$325. COUPLE OR FAMILY OF 2 – Annual Membership Dues – Must be living in same household
$225 SINGLE – Annual Membership Dues
$100. One time New Member Application Fee
$50. per caregiver (or grandparents) supervising your children at the pool
$5. fee for key
Individual guest fee $4. per visit with signed waiver
See Party Party Policy and Guest Waivers above – MUST HAVE APPROVAL BY BOARD.
Email information to: info@woodlakeswimclub.com
---
Key Exchange – The key exchange happens at the beginning of each Summer (June). If you missed the key exchange please contact the pool office.