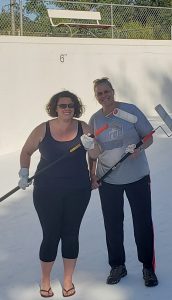 ---
Volunteer Today! WSC would not be the awesome club it is today without it's Board Members. A few Board members are terming out so we need to fill those spots for next year. If you are interested in being on the Board or have questions, please feel free to send us an email info@woodlakeswimclub.com .
---
All maintenance projects and assignments MUST be approved by the Board of Directors PRIOR to moving forward! Thank you!
---
The Woodlake Swim Club is owned and operated by volunteer members. We are always looking for folks to join in with the daily ongoing duties of the pool. As you can imagine it takes a team of people to operate and maintain this wonderful community asset.
Did you know you can reduce your membership fee by helping out with maintenance. $10 per hour goes to offset your fees for the next year.
Workdays usually happen 2 times pre-season and 2 times at the end of the season. Look for information and dates here, on Facebook, and on large wall calendar at the pool. We also email members of upcoming projects.
Other Volunteer Positions Available at the Pool
Pool Draining Cleaning Crew – Help wash down facility usually scheduled on a Monday.
Shopping Crew – For snack bar and cleaning supplies. You are reimbursed for items purchased.
Cleaning Crew – Volunteers sign up to do cleaning of the pool area and bathrooms for 1 or 2 days per week for the first or second session of the summer.
We also have larger projects that are posted as needed throughout the year.
Please join us by emailing info@woodlakeswimclub.com for more information.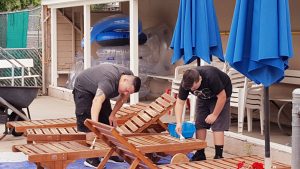 ---